Seconds-Fast SUSHI Set-Up: Of Screws, Styrofoam and Typos
To the SUSHIs, ready, go!

Yes, we have done it. After we successfully transported the first SUSHI bikes from Rotterdam to Munich, we couldn't wait long and immediately set up the first bikes... And filmed it for you! 🎥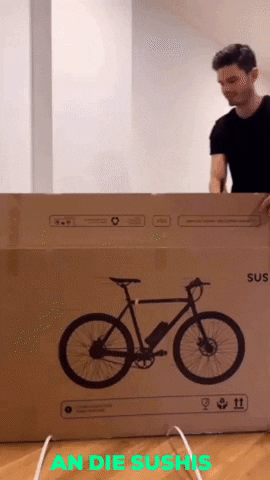 But it would be boring to get straight to the point. So at this point we would like to expand a little bit:
We spent weeks getting to grips with the user manual. Both in terms of content and graphics, we did our best and spared no loop - and there were many of them. Well, in the end there was probably one too few, because when the packages arrived (just before the deadline) and we held the first booklets in our hands, the euphoria didn't last long. On the last page, a number error had crept into the DIN. What now? As Germans, we naturally take such regulations seriously (!!!). But there was no time left to print the instructions again. The trip to Rotterdam was imminent and we wanted to pack the manuals into the goodie bags on site. So this had to be done manually. Yes, that's right, manually. And there were many! 😓
What we want to tell you: We're really proud of our instruction manuals and hope - no, hereby demand - that you appreciate them.
But since we are not from the moon and have already purchased one or the other complex part ourselves, we know that such an instruction manual can be so beautiful, but usually it is still inferior to a tutorial in its clarity. So we have practiced in the bike assembly viedo! The lack of experience as a YouTube Influencer is certainly hard to spot. 🤓
🎥 Here we show you how to assemble your SUSHI bike.
🎥 and with this video you can adjust your brakes properly
Have fun with the preparation and a good appetite!
Andy & Vera